Dr. Harold Willmington went to be with his Lord on October 15, 2018. Dr. Willmingon began teaching in the first academic year of Lynchburg Baptist College, now Liberty University, making him the longest serving member of Liberty's faculty to date. He was a founder of the Liberty Bible Institute, now the Willmington Bible Institute, and created the Liberty Home Bible Institute, the first distance learning program offered by Liberty University.
This past January, Dr. Willmington's life work was made available to the public for free through a worldwide online resource, the Liberty University Bible Resource Center. The Center includes Dr. Willmington's S.W.O.R.D. project (Scriptural Wisdom Organized and Rightly Divided) and approximately 1,000 of his articles with information from his most popular works.
Dr. Willmington is survived by his wife of 57 years, Sue, as well as his son, Dr. Matt WIllmington and his wife, Christine; three grandchildren, Nathan P. Willmington, Carissa Hassett and her husband, Aaron, and Abigail Willmington; one brother, Gordon Willmington of Grand Rapids, Michigan; and one sister, June Smith of Houston, Texas.
Because of Dr. Willmington's love of the Bible and helping young pastors, the family requests memorial contributions be made to Liberty Church Network, P.O. Box 10174 Lynchburg, VA 24506, libertychurchnetwork.com/partnership or to the Gideons International P.O. Box 97251, Washington, DC 20090, gideons.org/donate.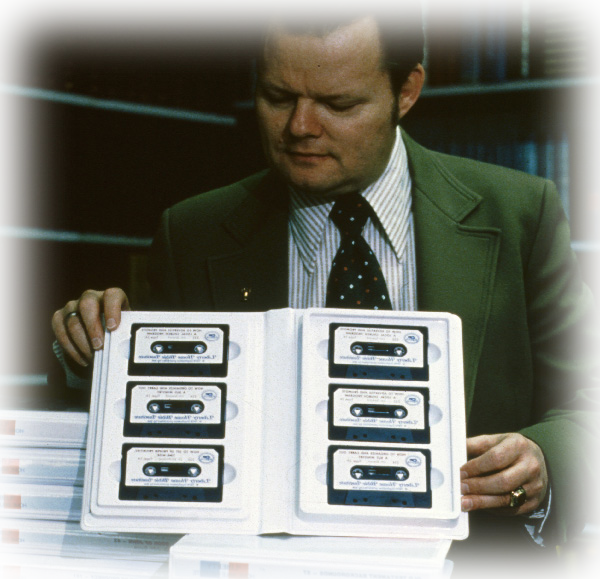 Dr. Willmington in 1987 with the audiotapes from the Liberty Home Bible Institute