Every month, we will feature a member church of LCN, highlighting the ways it makes disciples in its community. This month, we learn more about Harmony Baptist Church of Avon, Indiana led by Pastor Jonathan Lilly.

Pastor Jonathan Lilly
Harmony Baptist Church
5693 Broyles Road
Avon, IN 46123
(317) 745-0011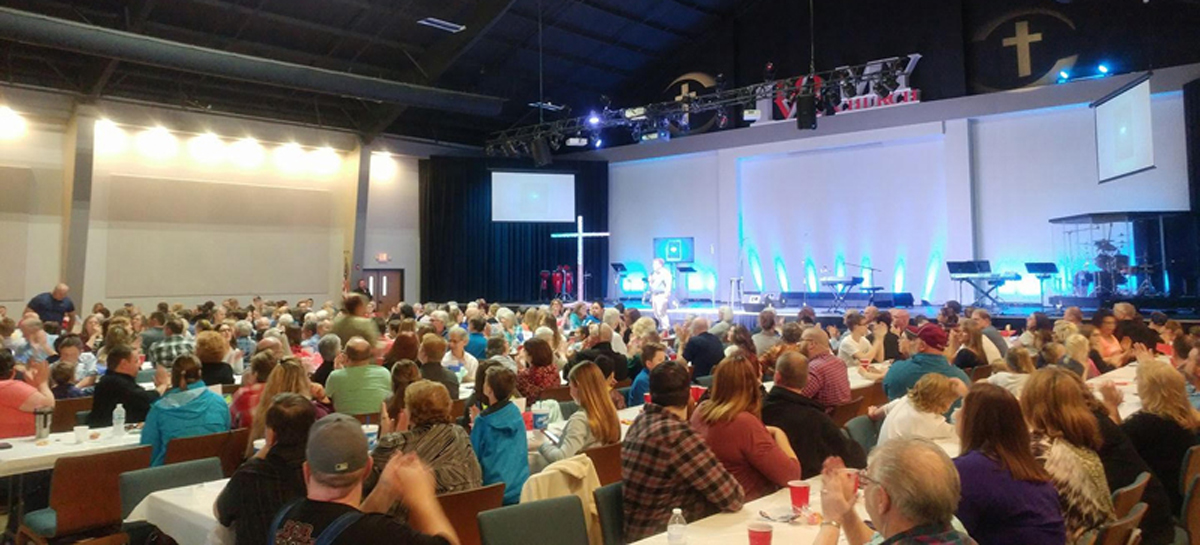 1. What is your strategy for making disciples in an outreach capacity?
At Harmony of Avon, our Mission is Loving God, Loving People and Making Disciples. Loving God and Loving People can be challenging but is often easier than making disciples who make disciples. The disciple-making process can be challenging and messy but it's not just our mission, it's The Great Commandment/Commission that Jesus has called us to. With that in mind we have four basic purposes that we build around: Love, Grow, Serve, Go. We want people to know that God loves them and we do too, and that they can love Him, grow to be more like Him, serve Him while serving others and go share Jesus with others. We make every effort to keep these purposes in front of us at all times.
In order to make disciples from an outreach standpoint we really focus on reaching out to our community where they are. We participate in community events where unchurched people are gathering and we create outreach events to which our church members and attendees can invite friends and we attempt to help people take their next step from there. At a community event that next step might be attending a church service or featuring groups and ministries to which they can connect. It's often meeting a physical or felt need to let them know that we love them and Jesus loves them as they are. In a church service it might be the next step of salvation or baptism, membership or joining a Life Group or Serve Team, or even come back to the next service.
2. How are you discipling the leaders in your church to be disciple makers?
Over the past few years we've realized the desperate need to disciple and develop leaders. In order to get better at that we have created some additional opportunities for leadership/discipleship development. However, the single most important thing we have done is be more intentional with challenging and encouraging our leaders to be disciples. We've provided more resources and materials but the intentional challenge for each of us has been the key to deeper development
3. With the children and teens being the future of the church, how are you discipling the next generation to be disciples makers?
Children and teens are not only the church of the future but they really are the church of today. In order to emphasize discipleship as early on as possible we have made the decision to focus on the Gospel as early and intentionally as we can. For our children we are utilizing ministry materials that are Gospel-centered and emphasize discipleship as much as possible. For 2yrs-6th grade we have an Awana ministry which focuses on the Gospel and Bible memorization in a fun and engaging environment. The goal is to make disciples who make disciples. With our teens we build upon then foundation that Awana and our other classes have started. We maintain a strong emphasis on the Bible and the Gospel and we help them develop through Life Groups and Serve Teams where they engage what they are learning by serving inside the church ministries and doing outreach at the same time. We are truly making every effort to include them in every process of the church by involving them and helping them participate so they understand at every age that discipleship and church is for them, not just adults.
4. Which discipleship program is working best in your church and why?
At this point the intentional challenging of our leaders and attendees is working well right along with Awana. The extra discipleship options of learning how to read the Bible, discovering spiritual gifts and sharing their faith has been invaluable. Many older adults are participating and it has caused us to realize this intentional discipleship is more than needed because disciples do not just make themselves or they are not made by attending a service and then leaving. The Awana ministry has brought generations together and while young children are memorizing the Bible and having fun, the volunteers serving are being challenged and realizing just how practical and important the Bible is for everyday life.
5. How does your church disciple new believers?
When it comes to new believers we have recently started using some of the Billy Graham Evangelistic Groups materials. We share the resources with them and connect them with a group to help them grow in their faith in that environment. The group process has proven to be very important for them. The Life Group leaders know they are new believers and they get a balance of mature believers as well as some new believers who have some of the same questions and needs. We also make an effort for one-on-one time to mentor and disciple them in the basics of Christian faith.